12 Of The Best Fall Sangria Recipes
If you're looking for some delicious sangria recipes to try this fall, you've come to the right place. From classic red wine to apple cider and bourbon, we have inventive variations that are the perfect pitcher drinks to serve at your next party.
Sangria is one of my favorite cocktails to serve for a party.
It's made in advance, almost always comes in a big batch recipe, is super easy to put together, and there are so many variations you'll never get bored of the same old recipe.
Which is why I like to have variations for all of the seasons.
And these fall sangria recipes do not disappoint.
Whether you like your sangria with red wine or white, apples or pears, bourbon or liqueur, this list is sure to have one you like.
1 | Red wine fall sangria
This post may contain affiliate links. We make a small commission if you buy the products from these links (at no extra cost to you). As an Amazon Associate, I earn from qualifying purchases. But we only recommend products we would use ourselves. For more information, click here to see our disclosures
Made with fresh fruit, sprite and Crystal Light lemonade, this red wine sangria recipe is similar to the traditional version but a little lighter. Since it doesn't contain rum (or any other liquor), it goes over well with guests who want a refreshing cocktail without too much alcohol.
2 | Cinnamon pear sangria
Packed with crisp white wine, vodka, fresh pears and a cinnamon pear simple syrup, this Cinnamon Pear Sangria is like fall in a glass!
Get the recipe ->
3 | Spiced apple cider & bourbon sangria
This easy fall sangria recipe is a festive twist on classic sangria, made with red wine, apple cider & bourbon along with fresh ginger and rosemary for some extra flavor. Serve either iced or hot for a totally delicious autumn cocktail.
Get the recipe ->
4 | Bourbon and cider sangria
Or if you prefer a simpler version, without the spices, this bourbon sangria is made with dry red wine, fruit, and just a little juice. It's an easy pitcher cocktail that's perfect for fall and winter.
Get the recipe ->
5 | Bourbon and Chambord sangria
For another take on a bourbon and red wine sangria, try this recipe that combines fall fruit with Chambord raspberry liqueur. Definitely one to try!
Get the recipe ->
6 | Apple cider white wine sangria
If you prefer white wine, then this delicious apple cider sangria is the perfect fall cocktail for you. It's a refreshing mix of classic sangria with an iconic autumn drink.
Get the recipe ->
7 | Red wine and orange liqueur sangria
This fall red sangria recipe brings special hints of autumn to your sangria experience. Made with orange liqueur, brandy, apples, and cinnamon, this fall red wine sangria is great for autumn parties and gatherings of all kinds!
Get the recipe ->
8 | Caramel apple sangria
White wine and apple cider are the base for this easy, crowd-pleasing sangria that also includes caramel syrup. It's a delicious drink that isn't too sweet and is easy to serve for a crowd.
Get the recipe ->
9 | Pear and apple fall sangria
Filled with fall's most iconic flavors, this delicious pear and apple fall sangria recipe combines white wine with pear liqueur and lots of fruit. A delicious and easy-to-make drink that everyone loves.
Get the recipe ->
10 | Cranberry apple cider sangria
Celebrate the season with this simple sangria flavored with cranberry juice and apple cider. Garnished with a cinnamon stick, this one is a crowd-pleaser for the whole holiday season!
Get the recipe ->
11 | Apple cinnamon sangria
This apple cinnamon sangria is the perfect fall beverage. It tastes like an adult version of apple cider but is sugar-free and low carb. You'll never guess what secret ingredient gives it so much flavor!
Get the recipe ->
12 | Sparkling Fall Sangria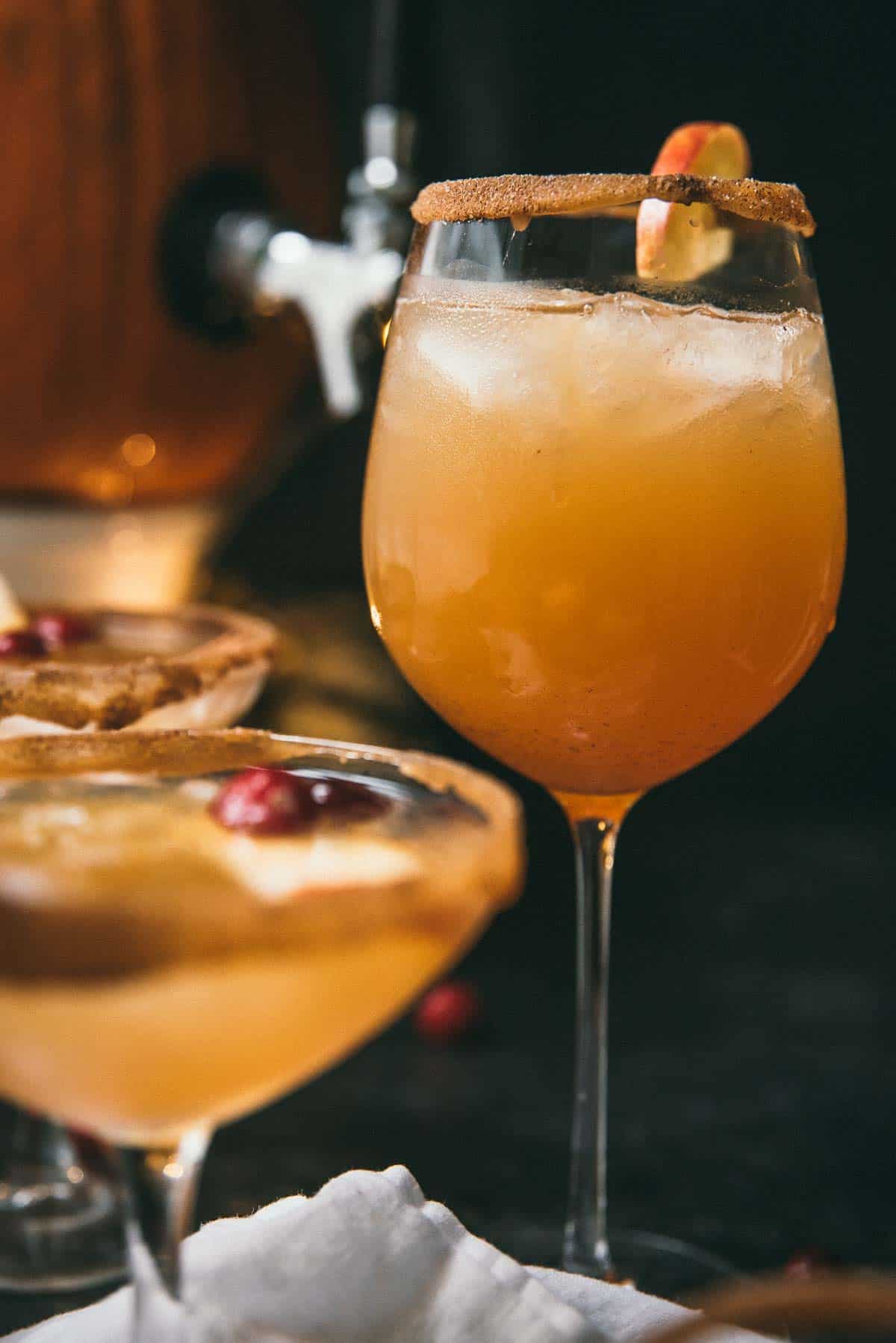 This sangria recipe combines the warming fall flavors of cinnamon, nutmeg, and apple cider with sparkling wine and bourbon for an easy to sip fall cocktail.
Get the recipe ->
Other sangrias you might like
Or browse all of our sangria recipes.
Have comments or questions on our fall sangria recipes? Tell us in the section below.
This post was originally published on October 17, 2022 but was updated with new content on September 5, 2023.